I've finally started my Middle Earth campaign, which will be an on-going series of linked games set in the mid-Third Age. The background is the fight for survival of the declining kingdom of Arnor, or rather its one remaining splinter state, Arthedain, against the Witch King of Angmar and his allies.
The idea is to play games of Dragon Rampant (with a few minor scene-setting tweeks), both solo and 2-player. There's no campaign map or ordering troops around, just battles and minor book-keeping to record who the faction leaders are and how they're progressing (or not).
The objectives are to have fun and get a bit of immersion in Tolkein's world. Arnor in the T.A. 1650s offers lots of scope for different forces, alliances and troop types, so I can free-form things in whichever direction I choose to go.
Lord Finaroth gallops out to turn back a border incursion by Rhudaurim raiders. Despite his heroic efforts he was slain by an arrow in the second game, giving his enemy some useful victory points.
No orcs or other nasties on the table yet, just men in a classic good vs evil confrontation.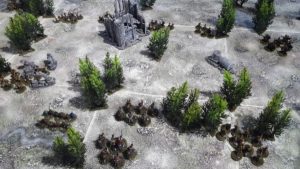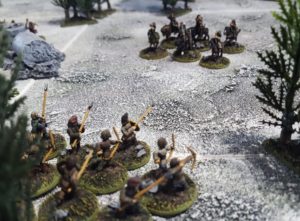 Helgmar, a Rhuadar Chieftain, leads his savage hearthguard on a raid. His unit has routed in both the first 2 games, costing him victory points and loss of face, but unlike his initial opponent, at least he's still alive.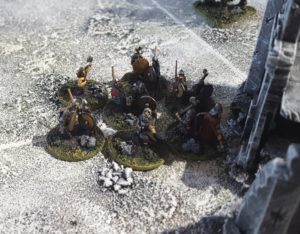 Figures are from various 15mm Dark Ages and Late Roman era armies. I have plenty of fantasy figures to introduce over time, and am working on some Arnor royal troops for when these initial minor border clashes turn into something more serious.
The Chronicle so far:
#
Scenario & Location
Arnor
Angmar
1
'Take them head-on'

March Lord aims to stop a Rhudaur incursion on the border

Ruins of Caer Molir watchtower

Lord Finorath (Might 10, Aggressive)

Attacker. +6 Might

Helgmar (Might 10, Energetic)

Defender. +0, Might, routed

2
'No Quarter'

Rhudaur chieftain seeks to restore his reputation by killing his adversary

The Weather Hills north of Amon Sul

Lord Finorath (Might 16, Aggressive)

Defender. Slain by an arrow. +1 Hero

Helgmar (Might 10, Energetic)

Attacker. +3 Might, routed. +1 Standard bearer

3

next

'Ride Now'

With Finorath's force destroyed, a nearby border patrol is outflanked and attempts to retreat

The Weather Hills north of Amon Sul

Ealdorman Branost (Might 10, Proud)
Helgmar (Might 13, Energetic)
Bold – won scenario, otherwise drawn