In early October a group of us from the forum were cordially invited to come for a game in Gary's very impressive Wargames room. As they go, it must be one of the best around, and comfortably accommodated 9 players and a good-sized table. It was a good opportunity to catch up with the guys, who came from far and wide as always, and meet one of Gary's very friendly local club members, Ian, who joined us.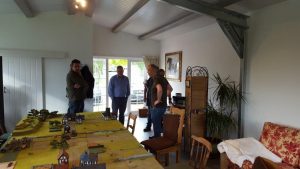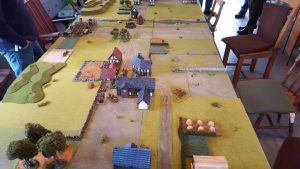 We would be using the Honours of War rules and most of us had brought a contingent of our own historical or imagi-nations troops. Gary had prepared the table, scenario, some of the forces, and all of the catering for the day – what a decent bloke! It was an attack/defend game, with a central bridge as the key, and 2 built up areas on the flanks also counting as objectives.
My Medetians took the right flank for the defenders, with reinforcements to come on later, and faced Iain and Simon who arrived en mass in the opening few turns.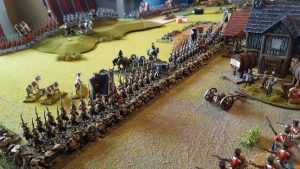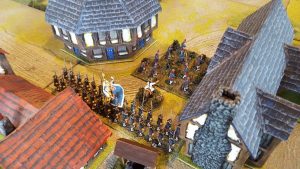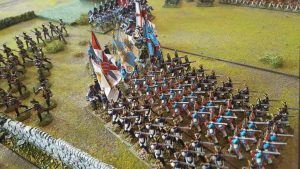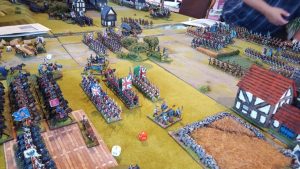 The fighting was pretty intense, and the rules held up pretty well, considering we had a lot of troops on the table by the end. I didn't quite manage to hold onto my village, with a last-ditch counter attack failing in the final turn. However, the bridge and farm were competently defended by Jeremy and Purps on my left, so overall we just about won.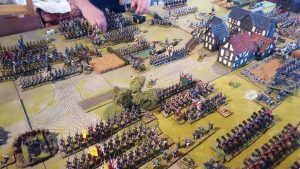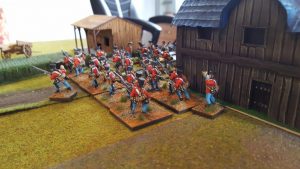 All in all it was a lot of fun playing such a good-looking wargame with old mates and new acquaintances. There was good banter and everyone was on good form, which was great to see.
After the game we had a very nice dinner and a few beers in one of the local pubs, rounding off an excellent weekend. Hopefully we'll be invited back next year!