This weekend half a dozen LAW members were royally hosted by Gary in darkest East Anglia, who presented us with a tremendous 28mm Rorke's Drift game. Aside from some additional Zulus painted up and brought by Jeremy, Gary provided all the figures and terrain, as well as an excellently run scenario using the Black Powder 2 rules. The table was 10 x 6 feet and looked superb.
The starting set-up: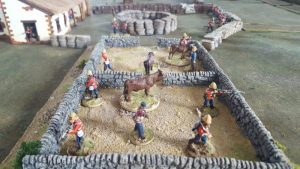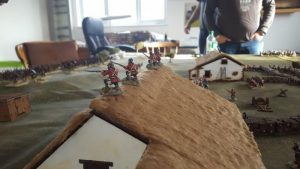 Four of us played the British, and I drew Lt Chard. We looked at the lengthy perimeter and the few redcoats, and weren't sure we could hold. The scenario had plenty of characterisation and some excellent special rules that were designed to follow some of the key events of the film, rather than just the historical battle itself. This made it a very engaging experience, and excerpts from the movie soundtrack provided some extra atmosphere too. Gary has walked the battlefield, and is very knowledgeable about the Zulu Wars, so there was no shortage of genuine background and information either.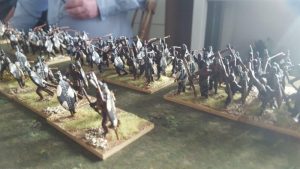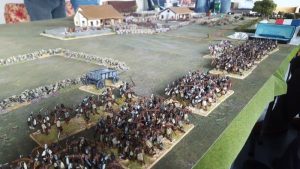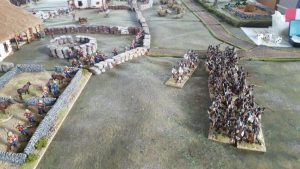 The game seemed well balanced, and although the British certainly had the advantage in shooting and in the first round of melees, the Zulus had the opportunity in the wargame to hit us from several sides at once, which they didn't really do in the actual battle.
Every newly arriving unit, and every charge, was a tense affair. In the end we just held on, despite losing the same number of men as they actually did on the day (17), with some desperate fighting and lots of heroic defending. We managed to defeat just enough of the Zulu force to send them packing and everyone agreed it was a brilliant day's gaming. Thanks to Gary for everything, and it was great to see the guys and share a meal and some beers afterwards.
Hopefully the pictures give a decent impression of how intimidating 600+ Zulus look!