A couple of weeks ago I played in a very enjoyable 4 player game of DBN. The figures were 10mm, mostly using Goat Major's lovely 1809 collection, but with a Corps of Prussians from Andy and a very small contribution from me (Austrians and Bavarians).
It would have been a bigger contribution but I have to admit that I struggled with painting these figures, especially at first. These Pendraken figures are too detailed to get away with a rough '6mm style' of painting, but small enough that everything is fairly tricky. After a few elements' worth I started to get the hang of them, but I didn't get as many done as I'd intended.
My Bavarian General: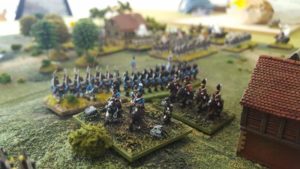 The beauty of DBN is that although we clustered round a very small (3 foot by 2 foot) board, we played a proper Napoleonic battle with the equivalent of 2 Corps per side. The rules work very well and the figures and scenery looked good. Goat Major and I just about held on in a fairly bloody affair.
Some of Andy's splendid Prussians: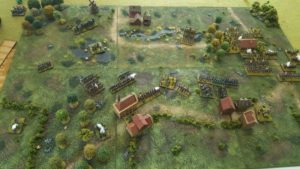 I have continued (slowly) painting some more figures for this and will aim to finish my intended Austrian and Bavarian Corps for future games. Despite over 30 years in the hobby these are the first proper Napoleonics I've collected, which probably puts me in a tiny minority of gamers. I do, however, already understand the collecting megalomania that can follow, along with the desire to play in bigger and bigger games!