Last weekend Jase and I played one of the scenarios from Lion Rampant, using our 15mm sci-fi stuff. Jase brought his 'dogmen'  force and I used my mercenaries, which included several new additions since the last game.
The mission is for one side (me, the defender) to protect a number of buildings/features in the centre of the table, while the enemy attempts to destroy them. We chose 36pt forces and played the game length-ways on a 4'x3′ table.
Noble mercenaries hurry towards the threatened facility:
The mortars are not technically necessary as on-table pieces, but are there to look good and represent the indirect fire capability of my advanced spotter team (a unit of Dragon Rampant 'Scouts' with a 'Wizardling' upgrade that gives them the ability to bring down a bombardment or smoke).
Soon-to-be-gnawed Scouts on the roof:
Mercenary HQ and combat teams: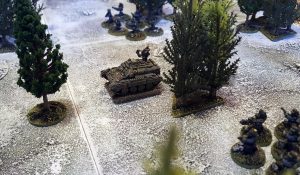 Despicable dogmen (counting as Bellicose Foot with Armour upgrade) advance, with destruction on their minds:
They even brought some nasty mechs (counting as Elite Foot with ranged fire upgrade in this instance):
My little tank (counting as Heavy Riders with 'Chariot' and 'Venomous' upgrades) did sterling work taking the fight to the enemy, but was eventually overcome by fire and close assaults:
The game played out very well and it was touch and go at the end as to who would come out on top. Two buildings were already burning when I had a final chance to snatch victory by destroying one more unit of attackers, but I just couldn't manage it. Jase kept his force together very well, and kept them focused on the mission. I managed to lure one or two units of impetuous dogmen away with my jetbikes ('light riders') but couldn't do enough damage overall to force a retreat.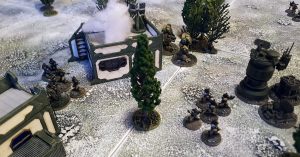 So, despite a desperate defence, the facility went up in smoke in the end. I'll have to plan a revenge attack for the next game! Great fun, and we thought it looked good at this scale and size of game, and played very well.