Having painted up the sci-fi buildings recently I decided something was still missing – a landing pad. There are one or two MDF models available but I thought I'd make my own instead.
So, a 6″ square piece of cork sheet, some card and a few stick-on bits and pieces, and voila…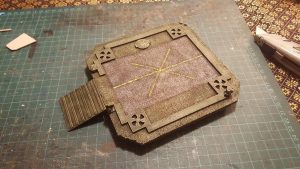 It didn't take very long to make, and will fit in well with my other scenery.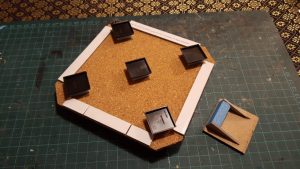 I can see some interesting scenarios being played out, with dramatic arrivals and escapes, and missions requiring the capture or destruction of the pad, etc.
Now I just need something to actually land on it. It'll be back to the web for that one I think!