So, after a year or so of being convinced that making a my own 28mm Frostgrave scenery was just too daunting (and a future storage challenge too far), I've gone ahead and done it in 15mm instead!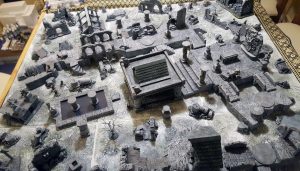 In the end this made a lot of sense. I've already got a pretty good 15mm fantasy collection, both for conventional wargaming and for my dungeon game. This includes characters, monsters and some minor scenery pieces. Now, after a January styrofoam, cork and card blizzard I have produced a 3×3 ft ruined playground for wizards and their warbands to explore and fight over.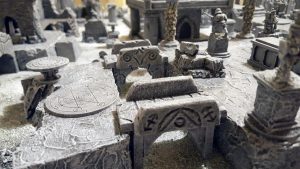 It was a lot more fun to do than I expected and I'm happy with the outcome so far. There are some more pieces to do, and most importantly there are new base boards to make. The ones in these pictures are my old winter boards and I'll be going for something with cobbles in the future. Hopefully February will see all this finished.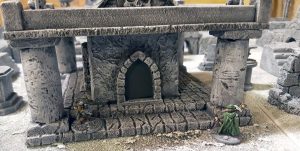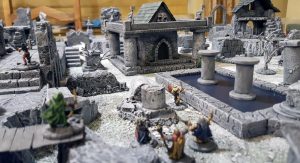 I've had a solo test game and the 15mm figures certainly help make the whole set-up seem grander and more imposing than I would have been able to achieve in 28mm. Modelling buildings and ruins in this scale is also a lot more forgiving. I'm a basic level modeller and happy to try for a consistent look rather than finely miniaturised architecture.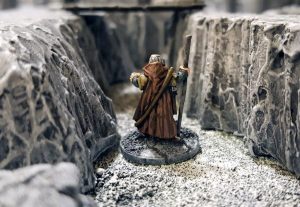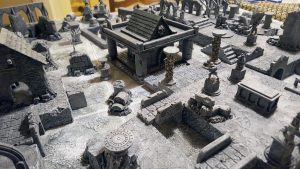 Some of this scenery can also be used with my dungeon game, and for future plans for a Dark Ages/Middle Earth hybrid skirmish setting – ruins of Rome, Arnor, etc.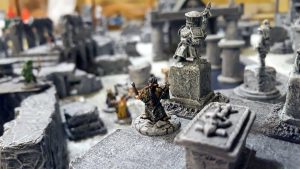 I'll post more pics as I finish new bits, and hopefully some in-game shots soon.