The new games room offered me the chance to have something I've not had before – a display cabinet for figures.
It arrived yesterday, about a week earlier than I was quoted. When a priority bit of DIY like this needs to be done, it goes straight to the top of the list. As a result it's now on the wall and full of figures!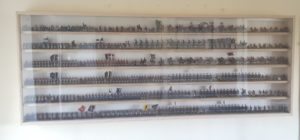 It's about 150 x 60cm, product name Alsino V16, from a big range of similar cabinets. Many come with pre-cut grooves for model trains, which naturally I avoided. I thought I'd fit more figures in but at least it's made a significant dent in the pile of boxes. Very pleased!