At the weekend Goat Major invited me over for a game of Frostgrave, which we played once before and had a lot of fun with. As it had been a long time since the first game we decided to simply start again, both using pretty much the same warbands as before.
Mine is based around a Necromancer, who has suitably motley followers, including his (when successfully raised) pet Zombie, Alan. GM's lot are an Arabian looking mob led by an Enchanter on a magic carpet.
The scenery was awesome as before, a complete setting with everything gelling together and making a very challenging landscape to fight over. Lots of obstacles, cover and height changes are important in this game, and allows you to clamber and hide to your heart's content. Clearly there's no frost involved here, but the game's the same whatever the setting. We played the Silent Tower scenario, but I spent most of my time just trying roll above a 5 on the cursed d20.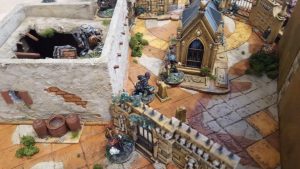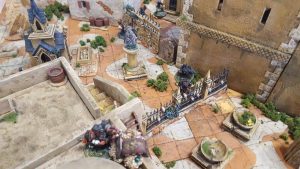 We took a while to get back to understanding the rules properly, but after a few oversights we had a very entertaining game. Although I managed to get half the treasure off the board, I left 80% casualties behind. Fortunately I made all but one of the post-game survival rolls for them, so it wasn't all bad. GM made it to the tower to get additional experience points, and if it hadn't been for his apprentice getting gored to death by a randomly encountered Boar, he'd have won by an even bigger margin.
Despite a fair few casting failures we managed to deploy quite a few spells between us, which of course is what Frostgrave is all about. After the game we rolled up the results of our scavenging and now have a bit of money to spend, and some options to play with. Hopefully we'll pick this up again in January for some more fun. Thanks GM for the excellent hospitality!