To help the Sci-fi Rampant project along I decided to add a few buildings to the scenery collection, as I suspected that just having the troops run about in the woods in the middle of nowhere could get a bit dull.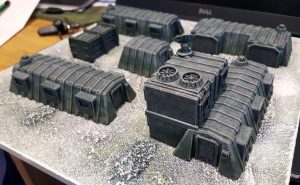 Brigade Models do some excellent sets, and their Research Base was exactly the sort of thing I was after. With their winter discount running at the moment, it was 15% off too, which was a bonus. I was determined to get cracking on it when it arrived, so that it didn't just get moved quietly onto the to-do scenery pile in a few weeks when my interest wandered in other directions.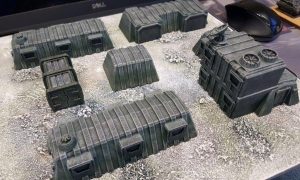 So, after a bit of a clean-up on the bottom of the pieces, and a black undercoat, I gave them a 3-tone dry brush from dark green up to light grey. They look a bit tie-died but work OK on both my green and winter terrain boards reasonably well.
There are some small containers to do, which are included in the set, but otherwise this lot are finished – within a week of ordering, which is pretty good going for me!