It's been a good while since I've posted here, but now seems as good a time as any to get going again. As the current virus situation dominates most conversations and online activity I will happily aim to steer clear of it on this blog.
So, has there been any hobby stuff going on in Medetia? Yes, quite a bit! Not lots of gaming, although there's been some, but I'm making some steady progress with a number of projects. One priority was preparation for this year's Ayton weekend with the LAW group, now sadly postponed. Still, I am keen to finish off what I planned, and hopefully get a bit more done too. This year was to be another outing for the 28mm 18th century armies, in my case a combined force made up of my Medetians and Fleurians.
Most of the effort has focused on re-basing infantry battalions, going from 36s with 2 command stands, to 30s with a single command stand. The 6-figure bases are being reduced from 50mm squares to 45mm squares. A small difference, but an improvement I wanted to make.
I am also taking the opportunity to add a bit of flexibility that might be useful in the future. 2 Battalions per side are going be made up of single figures mounted on magnetic group sabots/trays. This will allow them to be used as normal big-battle battalions alongside the rest of the collections, and also for skirmish games – Sharp Practice in particular. This will give me 48 musketeers per side, enough for most games. Leaders and characters can be added later, and my artillery crews, light infantry and light cavalry are all on single/sabots already.
Here's the test base, in between the old size on the left and the new on the right: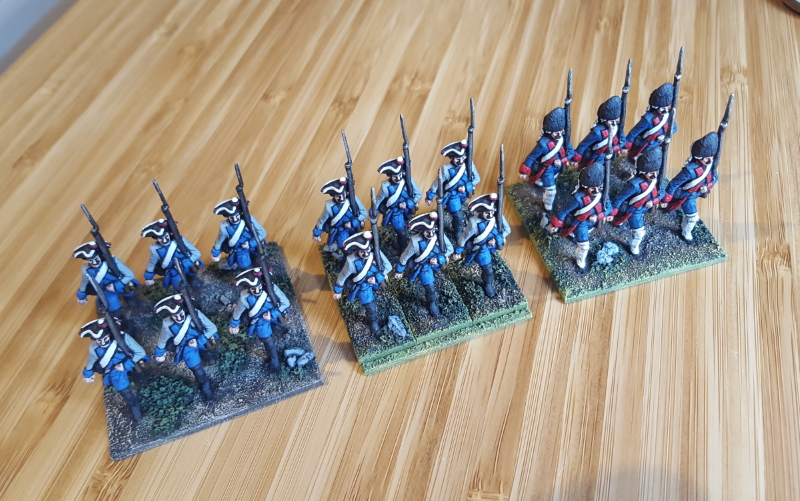 Getting ready to dash about in a skirmish game: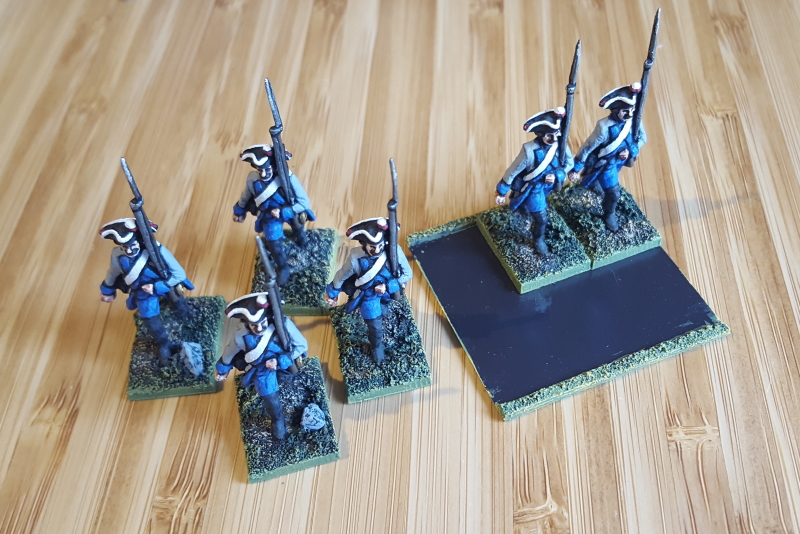 Not a perfect solution but I think it's going to be a reasonable compromise between aesthetics and practicality.