I've had some fun today with Joe McCullough's new game. It uses the Frostgrave mechanisms so it's been pretty easy picking them up (despite the lack of a QRS or playsheet…!)
I've got a lot of 15mm fantasy stuff – scenery and figures, but it's still been a challenge putting the scenario settings together. Actually it's a nice departure from the norm, and the scenarios themselves are very varied and challenging.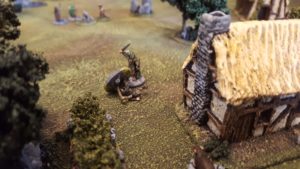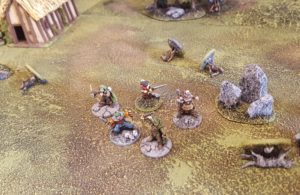 I created my Ranger, Vantaniri, and recruited a few companions (one each of Rogue, Tracker, Archer, Guardsman, plus Fido the Warhound). The first mission saw the Warhound slaughtered by a giant rat, while the rest of the team kicked evil ass pretty well.
Nasty giant spiders got Fido II in the 2nd scenario, while Vantaniri and the boys torched the spider nests, etc.  Everything was going swimmingly, although the good die rolls couldn't last forever.
Here he comes, bounding and panting with doggy enthusiasm. Oh dear.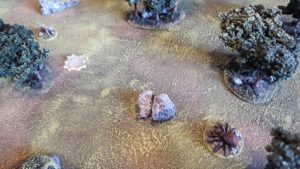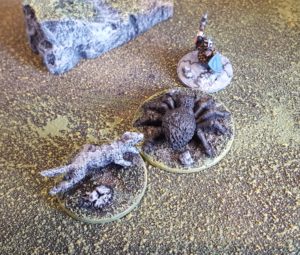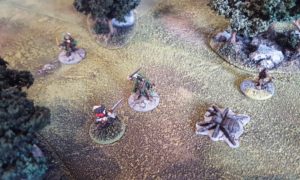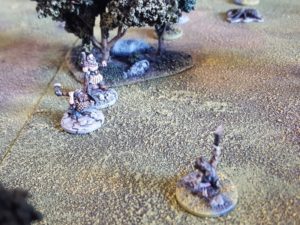 The next mission, which I've not yet finished, is proving very tough. Getting past some Gnoll bridge guards involved a combination of sneaking, swimming and getting chopped up pretty badly. Luckily everyone made it through, thanks to the recovery rolls, but we were carrying some residual injuries going into the tower that's the main mission objective.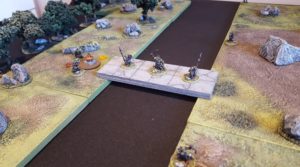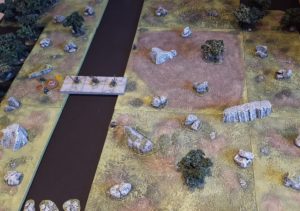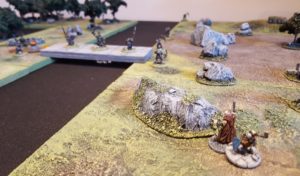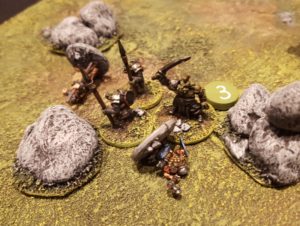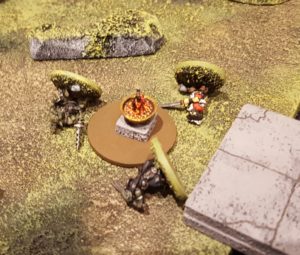 There's time pressure once in the tower, with a turn limit for crossing each of the initial (very large) rooms. Leaving a man down in each of the first 2 rooms, it's a slightly beat-up team trying to make it through to the end game. Will it be enough?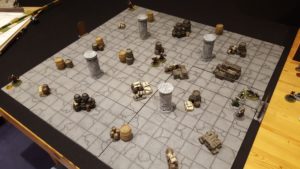 I'll be finding out post-turkey 🙂