My painting over the November/December period wasn't hugely productive, but I did manage to finish a Sci-fi force. Like most of my other projects, these guys have been languishing for a good few years, and it was good to finally get them done.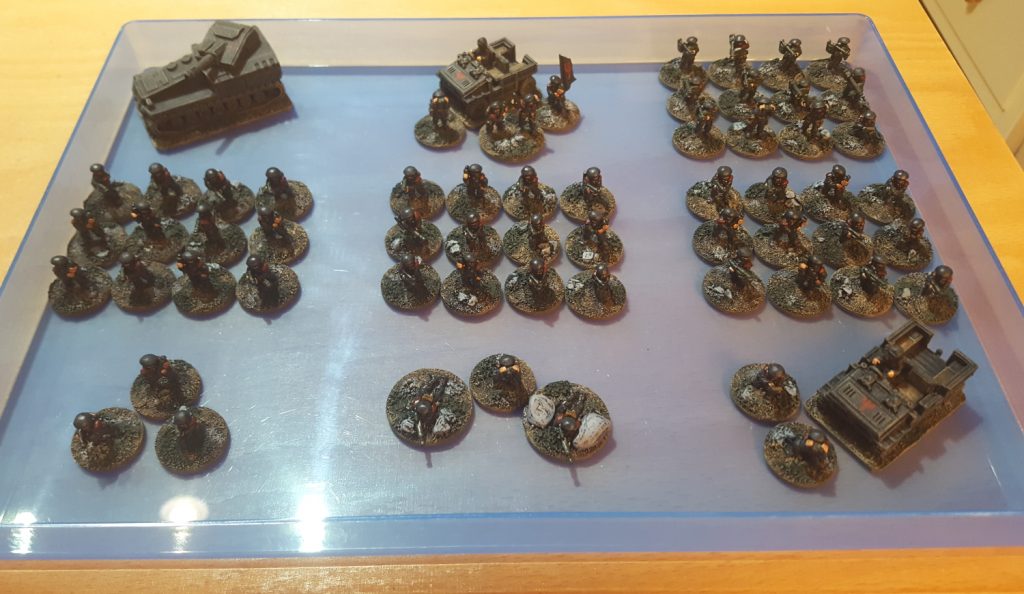 They are a force for Sci-fi Rampant (which is basically Dragon Rampant with carefully allocated unit types and upgrades, as referred to in previous posts).
The inspiration comes from Gordon R. Dickson's Dorsai novels, specifically the mercenaries hired out from the Friendlies, a pair of planets populated by an intensely religious sect. They're mediocre troops, but well disciplined. To make them more interesting I have sort of blended this background with the attack-minded doctrine and unit types of the Soviets in WWII.
The core is therefore made up of large squads of close assault troops (12 figures per squad compared to the usual 6 for better quality units), backed up by heavy weapons, mortar/artillery spotters, snipers and a bit of assault armour. There are 60 figures, all from GZG (the tank is from Brigade Models). The one addition I'm making is a further squad of 12, using CP Models figures in turbans. These are painted but not yet based.
I'm looking forward to trying this lot on the table. They're going to take a lot of casualties going in but with their sheer numbers, and black uniforms, they should be a daunting sight for the enemy!