This weekend I played a solo refight of Frederick the Great's first battle, Mollwitz 1741, in 6mm. The rules were my Seven Years War variant of the Realtime Wargames set, Trapped Like a Fox, which has relatively simple mechanisms and is played on a grid.
Although a little short of space (the Austrians lacked the room for their cavalry to swing wide of the Prussian right wing) I was able to represent the full orders of battle. The armies were deployed ready to clash, as I didn't feel the need to play out the Prussians' slow march through the snow from their distant original deployment.
View from behind the Prussian infantry, looking towards Mollwitz and the Austrian infantry drawn up in front of it: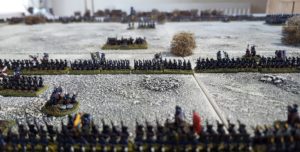 The Austrian view in return:

The powerful Austrian left wing cavalry, under the ill-fated (in both the real battle and the game) General Romer: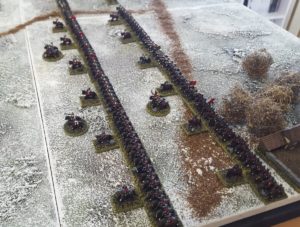 Some more pics of the Austrians:
I tried to reflect the various troop qualities, with the Prussians having by far the better infantry, and the Austrians the better cavalry. There were a decent number of generals and sub-commanders on each side. Well, at least at the start.
In game terms the options available to the two sides were basically what they were for the real commanders. The Austrians need to make their superior cavalry count on their left flank, their best chance of victory being to drive off the meagre Prussian cavalry and roll up the infantry. The Prussians need to hold off the enemy cavalry long enough for their excellent infantry to march up and crush their Austrian counterparts. For both armies the stream and rough/boggy ground made the other flank an unlikely place for any decisive action.
Oh yes, a pic of the battlefield before everyone turned up: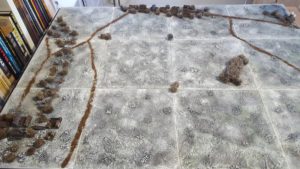 That's the preamble, the next post will cover the game itself.