This is a nice cheap kit from Sarissa Precision that a lot of people seem to have picked up. It can fit into a variety of settings and periods, and basically just looks good on the table.
Mine has been painted with my usual colour pallet, with sand added to the base to blend into my terrain boards. I did add some roughly-cut card strips to the roof to rough it up a bit, as the standard look was a bit too neat!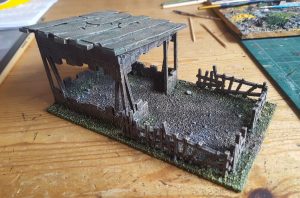 Quick to assemble, quick to paint. What's not to like?