This is an MDF kit I picked up at Partizan, which I decided would fit well into my Frostgrave scenery collection. Blotz offer the same model in 15mm, 20mm and 28mm. I went for the 20mm one as I thought it would make a more impressive piece for 15mm.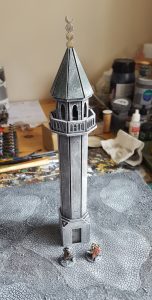 It was relatively easy to assemble, and the online instructions gave a useful tip about putting some weight in the bottom section for ballast. I loaded it with 2p pieces. I may base the model at some point to give it some steps up to the door and a bit more stability.
Some of the upper section needed painting before final assembly, which I realised just in time. It's the sort of thing I usually spot just after I've applied the glue!
A couple of Battle Valor 15mm figures give it a decent sense of scale.