I have finished off a few additional bits of scenery for my Frostgrave set-up. The main piece is a larger bridge, and there are some more rubble piles, columns and stone walkways/jetties too. I added a pit as well, as it's one of the extra scenery pieces you can use with the Ulterior Motives cards.
The bridge was designed by my wife, who's taken an interest in Frostgrave and played in the first game (2 crossbowmen on the roof, I ask you…!). I did the construction under close supervision, and added optional leg extensions to allow the bridge to also span taller gaps. It was mostly made from styrofoam, but has an arched cobbled roadway using a sheet of Slaters plasticard.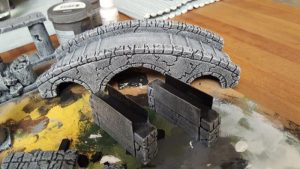 A couple of drinking fountains:
There are some more bits and pieces I want to do, and I'm still finding it fun so they should happen soon!