The Loose Association of Wargamers forum is running a challenge this month to use up some of the stuff that wargamers collect and hoard in the hope they'll be useful someday. I am definitely one of those people who can't help holding onto a decent sheet of polystyrene, cardboard tube or piece of balsa, so I decided to have a go.
Good timing then – as a new curtain pole came packed in some L-shaped card lengths, and I detected a potential use straight away!
I have been intending to buy some 28mm earthworks as defences to use in various games, particularly Sharp Practice skirmishes in the Medetian colonies. Nothing in 28mm resin is super-cheap, so I thought I might economise a bit with my new cardboard bits 🙂
This isn't intended as a detailed step-by-step account of how I produced the final piece, but basically I cut a 30cm length and removed a section for a gun emplacement. Then I plugged the ends, and based the entire piece, with card. The remaining features were the adding of a firing step with a rear extension for the gun and crew (10mm styrofoam sandwiched between more card and decked with thin strips), a 'planked' shield for the gun and finally some sharpened dowel spikes to deter attackers.
I used some filler on the gaps and on the main earthwork, and covered it with sand.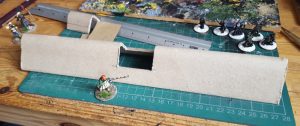 Everything received a Sandtex black undercoat and a heavy brush of Sandtex bitter chocolate. The wood received a light grey drybrush before everything was finished with a sand-coloured final brush. I painted the front edge green to match my terrain boards, and that's it done!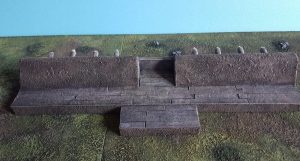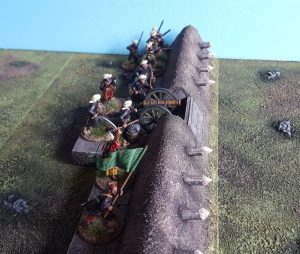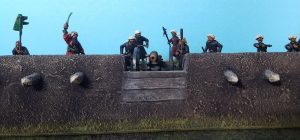 I just need to make a few more bits now and then get them on the table for some interesting pirate stronghold scenarios!